Information
b. 1989 Arcadia, CA
Lives and works in Pasadena, CA
Ben Sanders is a multi-disciplinary artist who lives and works in Los Angeles. His work has been exhibited throughout the United States and internationally, as well as commissioned by clients, big and small, throughout the world, including
Nike,
Dropbox,
Louis Vuitton, SSENSE,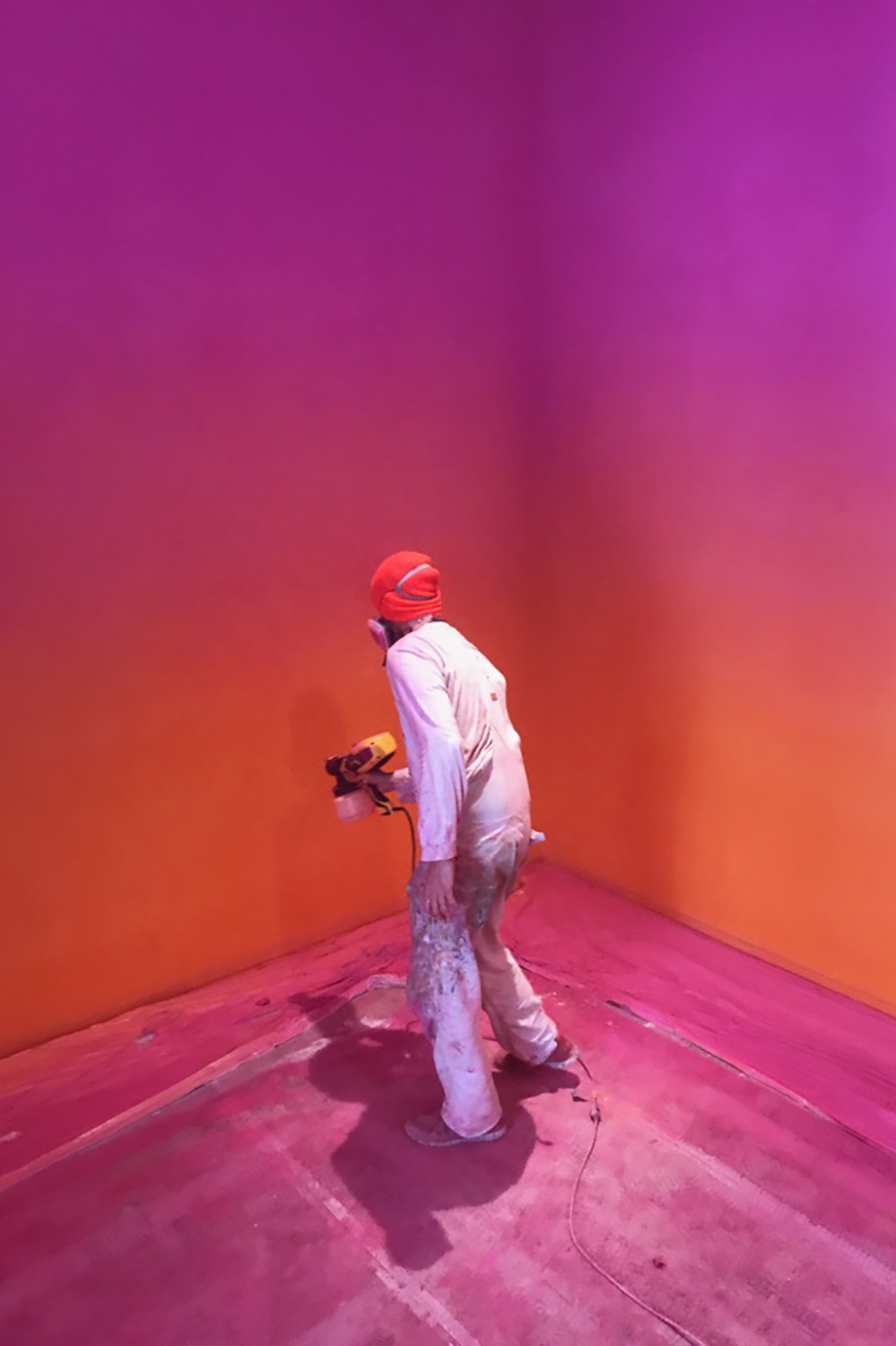 and The New York Times.
For Sanders, practices of
gardening
and
cocktail-making
hold as much value as a process-rich,
finely rendered painting.
Complementing his studio work is an enthusiastic, open-ended list of
activities,
materials
and
processes,
inspired by the domestic and the designed. Whether facilitating highly curated social experiences involving food and beverages, or working with members of diverse, non-art communities, Sanders welcomes the influence of the everyday as a path towards meaning.
Solo Exhibitions

2022
Strange Attractors, Left Field Gallery, Barely Fair, Chicago, IL

2021
Nine Bottle Caps and a Chimney, Ochi Gallery, Ketchum, ID
2020
Poppies, Ochi Projects, Los Angeles, CA
Bonsai, Ampersand Gallery, Portland, OR
2019
Items, Left Field, Los Osos, CA
Art Los Angeles Contemporary, Ochi Projects (with Adam Beris)

2018
I Come to the Garden Alone, Ochi Projects, Los Angeles, CA

2017
The Garden & The Church, Gagosian Gallery, Beverly Hills, CA (Bathroom Installation)

2015
Foreign & Domestic, Carl & Sloan, Portland, OR

2014
Whiteface (two-person exhibition with Stephen Collier), LVL3 Gallery, Chicago, IL
Graves of Craving, Slow Culture Gallery, Los Angeles, CA

2013
Magic, Art Center College of Design, Pasadena, CA

Group Exhibitions

2021
Expanded Field, Ochi AUX, Los Angeles, CA

2020
Second Smile, The Hole, New York, NY
To Bough and To Bend, Bridge Projects, Los Angeles, CA
Art Los Angeles Contemporary, Big Pictures, Los Angeles, CA

2019
Holding Space, Big Pictures, Los Angeles, CA
House Museum, curated by Alex Reed, Los Angeles, CA
I Wake Up and Write Down My Dreams, No Gallery, Los Angeles, CA (Organized by Big Pictures, Los Angeles)
I have always imagined that paradise will be a kind of library, Blake and Vargas, Berlin, Germany (Organized by Big Pictures, Los Angeles)
2018
Culinaria, Disjecta, Portland, OR
Soft Pretzel, Vacation, New York, NY (Organized by Ochi Projects)
LOVE 2018: Purple Hearts (curated by Rachel Stern), Columbia University LeRoy Neiman Gallery, New York, NY

2017
DBA, Big Pictures, Los Angeles, CA, CA
Taco Shop Art Show, Rosarito Mexican Food Restaurant, Pasadena, CA

2016
The Thing Itself, Coop Gallery, Nashville, TN
Elysian Redux, Asya Geisberg Gallery, New York, NY
Pink & Green, Eddy's Room, New York, NY
Slippery Slope, Left Field Gallery, San Luis Obispo, CA

2015
RV, TSA LA, Los Angeles, CA
Making an Entrance, Robert Blumenthal Gallery, New York, NY (curated by LVL3, Chicago)
Tan Lines 3, Solid State, Chicago, IL
FIVE, LVL3 Gallery, Chicago, IL

2014
Something Within, DAC Gallery, Los Angeles, CA
Rendering, Good Work Gallery, Brooklyn, NY
Paraprosdokians and Rubber Chickens, The Art Gym, Portland, OR
A La Mode: Painted Method, L'Art Projects, Los Angeles, CA
Opera Buffa, FIELD Contemporary, Vancouver, BC
High Math, Slow Culture Gallery, Los Angeles, CA

2012
Post-it Show 8, Giant Robot 2, Los Angeles, CA
Back 2 Basix, Art and Crafts Collective, Los Angeles, CA
Gold, Silver, and Bronze, Kemistry Gallery, London, UK
Special Projects, Murals & Events
2021
Food and Beverage Program, Marta, Los Angeles, CA
YMCA Basketball Court, Crenshaw, CA

2020
Nike LAHQ Murals, Playa Vista, CA
Sunset Hallway, Private Collection, San Marino, CA
Food and Beverage Program, Marta, Los Angeles, CA

2019
Pot Dealer Book Launch, Ochi Projects, Los Angeles, CA
Food and Beverage Program, Marta, Los Angeles, CA
Louis Vuitton X Exhibition Murals, Beverly Hills, CA

2018
Bar Commission for Culinaria (Art+Food+Community), Disjecta, Portland, OR
3 Murals, Brickell City Centre, Miami, FL
Brewery/Taproom Mural, Cerveceria Insurgente, Tijuana, MX
Dropbox Live Mural SXSW, Austin, TX

2017
Chateau Le Sploosh (A Happy Hour Agency Bar Installation)

2016
The HHA-tel Bar in Rm. 227 (A Happy Hour Agency Bar Installation)
The Grid Bar at Ghosting.TV (A Happy Hour Agency Bar Installation)

2015
Hypertube (A Happy Hour Agency Bar Installation)
Gordon's Garden (A Happy Hour Agency Bar Installation)

2014
The Cozy Castle (A Happy Hour Agency Bar Installation)
Chilligan's Island (A Happy Hour Agency Bar Installation)
Curatorial

2017
21, Group Exhibition, Left Field Gallery, San Luis Obispo, CA
Taco Shop Art Show, Rosarito Mexican Food Restaurant, Pasadena, CA
Selected Features/Bibliography

CARLA, 2018
Artsy, 2018
Artillery, 2018
It's Nice That, 2016
Art Viewer, 2015
It's Nice That, 2015
It's Nice That, 2014
Talks
Art Center College of Design, Pasadena, CA, September 2015 – present
Fellows of Contemporary Art, Los Angeles, CA, January 2020
The Art Gym at Marylhurst University, Portland, OR, November 2014
Clark College, Vancouver, WA, November 2014
Pratt Institute, New York, NY, March 2014